Back
Thursday, January 4, 2018
Gefen Now Delivering Its New USB 2.0 Extender to Provide Affordable, High Speed Signal Extension
PETALUMA, CALIFORNIA – Building on its promise to provide installers with versatile signal extension solutions, Gefen today announced that it is now shipping its new USB 2.0 SR Extender over one CAT-5 (EXT-USB2.0-SR). The all-new EXT-USB2.0-SR joins its sibling, the industry standard EXT-USB2.0-LR. It extends USB 2.0 up to a distance of 50 meters (164 feet) over a single Cat-5 or better cable, facilitating the remote placement and control of high-speed USB-enabled devices such as computers and interactive digital signage.
"Since the company's inception, Gefen's USB extension products have been some of our most popular and widely-applied solutions," explained Gefen Product Manager Jason Fitzgerald. "The new Gefen USB 2.0 SR extender adds to this prestigious line-up by giving users a lower cost option for extending USB 2.0, at a shorter range of 50 meters and with a single USB port instead of the two ports offered on the EXT-USB2.0-LR. This affordable addition to our USB Extender line opens the market to new customers who are looking for the reliability of a Gefen USB extender but do not need the enhanced features offered by the long-range model."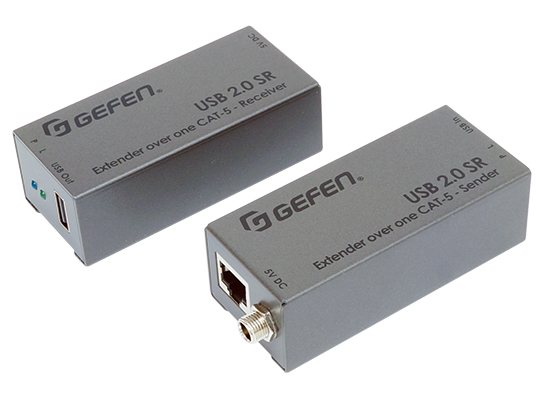 The EXT-USB2.0-SR supports USB 2.0 and 1.1, and speeds up to 480 Mbps. It is compatible with a wide variety of USB devices, ranging from HID to audio devices and web cameras. A single USB Type A output is provided on the receiver, which can also be connected to a powered USB hub if needed. Meanwhile, the extender's input features a single USB Type B input for connection to a computer or another USB host device. Power supplies for both Sender and Receiver units and a USB cable are included.
The compact Sender and Receiver units feature sturdy metal enclosures for better performance and enhanced immunity to interference. They install in minutes and can be hidden away. "This extender is ideal for remotely accessing laser printers, scanners, external hard drives, CD and DVD burners, flash drives, and standard resolution cameras. It is fully compatible with USB 2.0 - essential for high-performance applications such as digital imaging and interactive gaming," Fitzgerald concluded. "Applications such as remote desktop (keyboard and mouse) extension, security, industrial control, digital signage control, and scientific data acquisition are all made possible thanks to EXT-USB2.0-SR's universal implementation of USB standards."
For a hi-res image, click here.
About Gefen
Gefen® creates seamless and scalable audio/video signal processing solutions for commercial and residential applications. With a heritage of practical innovation and first-to-market products, Gefen delivers intuitive A/V distribution solutions that bridge the gap between rapidly advancing technology and real-world applications. Gefen is part of the Core Brands family that recently merged with Nortek Security & Control.
About Nortek Security & Control
Nortek Security & Control LLC (NSC) is a global leader in smart connected devices and systems for residential smart home, security, access control, AV distribution, and digital health markets. NSC and its partners have deployed more than 4 million connected systems and over 20 million security and home control sensors and peripherals. Through its family of brands including 2GIG®, ELAN®, GoControl®, Linear®, Mighty Mule® and Numera®, NSC designs solutions for national telecoms, big box retailers, OEM partners, service providers, security dealers, technology integrators and consumers.
Headquartered in Carlsbad, California, NSC is a subsidiary of Melrose Industries PLC, a global investment company specializing in acquisition and performance improvement. With over 50 years of innovation, NSC is dedicated to addressing the lifestyle and business needs of millions of customers every day. For further information, visit nortekcontrol.com.

Back